HK-416 rifles are modified versions of the M4 manufactured by Heckler & Koch for the US military. Utilizing our modular fully slotted back panel system, storage of HK416s in Combat Weapon Storage Systems™ is accomplished with standard rack accessories for efficient HK416 storage.
Combat Weapon Storage Systems™ will meet the storage requirements for all versions of M4 rifles including storage of most accessories attached to the M4 including optics, scopes, M203 grenade launcher and more.
Combat High Density Weapons Racks come standard with a 10 point locking system meeting OPNAVINST 5530.13C & AR 190-11 for arms storage requirements.
Combat Weapon Storage Systems™ are available as stand-alone fixed storage systems or as high density storage systems mounted to moveable carriages for a compact shelving system. Our background as storage system experts allow our system designers to implement the most efficient, space effective armory design available.
All products and services are available on GSA Schedule to the US Federal Government applications & through DLA with National Stock Numbers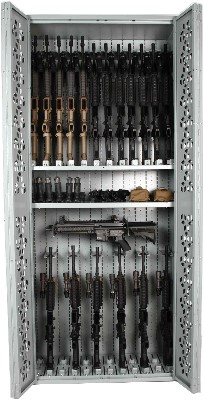 HK416 stored with M4s, MK16s & SOPMOD M4s