The M224 60 mm Lightweight Mortar is a smooth bore, muzzle-loading, high-angle-of-fire weapon used for close-in support of ground troops. The M224 system is composed of the M225 Cannon (18 lb), M170 Bipod (15.2 lb), M7 Baseplate (14.4 lb), and the M64A1 Sight Unit (2.5 lb). The mount consists of a bipod and a base plate which is provided with screw type elevating and traversing mechanisms to elevate/traverse the mortar. The M64A1 sight unit is attached to the bipod mount. This smooth bore system can be gravity-fired or fired by using a manual spring-loaded firing system. Utilizing our modular fully slotted back panel system, storage of M224s in Combat Weapon Storage Systems™ is accomplished with rapid reconfiguration of rack accessories for efficient M-224 mortar storage.
Combat Weapon Storage Systems™ will meet the storage requirements for M224 60mm lightweight mortars.
Our fully welded cabinets meet & exceed US DOD physical security regulations including, OPNAVINST 5530.13C & AR 190-11 for arms storage requirements and stowage of small arms & are also TACOM certified. Combat Weapon Storage Systems are ISO 9001:2008, ISO 14001 & OHSAS 18001 manufactured, offering the highest quality manufacturing standards in the industry.
Combat Weapon Storage Systems™ are available as stand-alone fixed storage systems or as high density storage systems mounted to moveable carriages for a compact shelving system. Our background as storage system experts allow our system designers to implement the most efficient, space effective armory design available.
All products and services are available on GSA Schedule to the US Federal Government applications & through DLA with National Stock Numbers
| | |
| --- | --- |
| Mortar Rack National Stock Number | |
| 1095-01-612-1545 | CWR10 - Stores 4 Mortars with 3 full width adjustable shelves above. 85" H x 36" W x 15" D. 9 point locking system |
| 1095-01-612-1928 | CWR11 - Stores 4 Mortars with 3 full width adjustable shelves above. 85" H x 36" W x 15" D. 10 point locking system |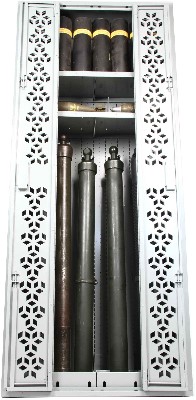 M224 mortars stored inside Combat Weapon Rack