Combat Weapon Racks store M224 mortars & M252 mortars securely inside of our kitted rack designed for MK19 storage. Using the same components, both M224 and M252 mortars can be stored together, separately or combined with MK19s. We offer additional mortar storage configurations not noted below in our kitted NSN rack. Please call for additional mortar storage requirements.
Our fully welded cabinets meet & exceed US DOD physical security regulations including, OPNAVINST 5530.13C & AR 190-11 for arms storage requirements and stowage of small arms & are now TACOM certified. Combat Weapon Storage Systems are ISO 9001:2008, ISO 14001 & OHSAS 18001 manufactured, offering the highest quality manufacturing standards in the industry.
Combat Weapon Racks can be purchased as stand-alone racks or also for use with high density mobile carriage systems popular for arms rooms looking to reduce the footprint weapon racks require.
Below is a list of our racks configured to store Mortars with National Stock Numbers, dimensions and a short description of the rack. Please call for additional information or any configuration questions.
9 Point Locking System - This rack has 8 internal lock rods that engage the cabinet frame when locked and requires one pad-lock to secure the door.
10 Point Locking System - This rack has 8 internal lock rods that engage the cabinet frame when locked and requires two pad-locks to secure the door
| | |
| --- | --- |
| Mortar Rack National Stock Number | |
| 1095-01-612-1545 | CWR10 - Stores 4 Mortars with 3 full width adjustable shelves above. 85" H x 36" W x 15" D. 9 point locking system |
| 1095-01-612-1928 | CWR11 - Stores 4 Mortars with 3 full width adjustable shelves above. 85" H x 36" W x 15" D. 10 point locking system |
| 1095-01-620-5538 | CWR34 - Stores any combination of 4 Mortars, MK19s or 4 M2s with 8 spare barrels & 3 full width adjustable shelves above. 76" H x 36" W x 15" D 9 point locking system |
| 1095-01-620-5605 | CWR35 - Stores any combination of 4 Mortars, MK19s or 4 M2s with 8 spare barrels, 1 M240/M249 & 3 full width adjustable shelves above. 76" H x 36" W x 15" D 9 point locking system |
| 1095-01-620-5591 | CWR36 - Stores any combination of 4 Mortars, MK19s or 4 M2s with 8 spare barrels & 12 M4s above. 85" H x 36" W x 15" D 9 point locking system |
| 1095-01-620-5764 | CWR37 - Stores any combination of 4 Mortars, MK19s or 4 M2s with 8 spare barrels, 1 M240/M249 & 14 M4s above. 85" H x 42" W x 15" D 9 point locking system |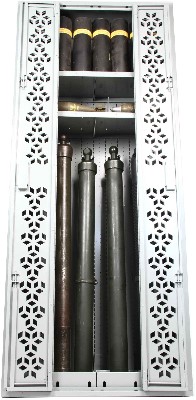 M224 & M252 mortars stored inside Combat Weapon Rack